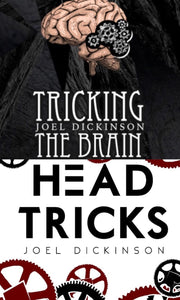 Head Tricks & Tricking The Brain Double Pack
£6000

£60.00

Total Saved £24.99
---
---
Tricking The Brain & Head Tricks
"Joel has really moved forward the "which hand" plot. This is a very elegant solution, with some clever thinking and efficient routining." - Marc Paul.

"Lovely, Lovely. Volition is great." - Jan Forster, Master Mentalist.

Much of the material is featured in professional performers acts and has also been performed on television worldwide.
As well as the physical book you receive access to a HD Video for clarity of some of the routines. These contain extra tips and ideas for the routines.
 I SEE DEAD PEOPLE (Close up/Parlour)
A baffling and practical method to reveal a thought of dead person and then the magician impossibly reveals the name of the dead person.

KNOW IT ALL
A prediction which has been on full display is opened and it reveals your participant is a liar, it also reveals their star sign and it proves the participant can read minds.

FRUITFUL
A fun routine with a big kick.
As performed on TV by Scott Pepper.

FLIP OUT
A participant selects an invisible coin and decides on its value. They flip the invisible coin in the air to see if it lands on heads or tails, their choice. The prediction (which has been in full view the entire time) is opened by the participant and it matches their decisions perfectly. This is as direct as the coin toss gets and is an advancement in methodology.

CALIBRATE OUTDONE
Reveal a participants star sign and a drawing they have made.

BANK JOB
A highly entertaining presentation for the bank night.
ANSWERS ON A POSTCARD
Considering performing shows? I answer many questions from close up performers, these questions may be on the tip of your tongue and now they are answered.
Also includes a section dedicated to handling a pocket index, a bonus routine embedded in the book called MIND THE STAGE and a bonus routine within the video called DOUBLE FLIP.

There are hard-hitting routines within the book along with countless tips, details and subtleties.
High Quality
Full colour
Hard back
80 Pages
HD Videos

Head Tricks
"Very Clever." - Richard Busch, Master Mentalist.

"So simple, amazing and astounding.' - Daniel Meadows, magician and creator.

"Joel, this is genius! There were a few times while reading the routine when a big smile appeared on my face. This is a brilliant routine and finally a "which hand" type routine that I want to perform! No logic puzzles or gimmicks, just very clever construction of a routine that is not only easy, but practically impromptu!" - Iain Moran, professional mentalist & magician.

Volition : Your participant is handed three objects to mix. After deciding which object will go where, your participants actions were predicted well ahead of time.

Triveal 
Merely thought of playing cards are revealed and predicted ahead of time.

Foreseen
Your participant guess which hand an object sits in five times. The performers prediction astonishes all as it reveals he knew the outcome in advance. Then, jaws drop for a second time as the performer reveals that he knew every decision the participant would make, and whats more, the prediction has been in the participants pocket from the word go.

Joel's Book Test : 
A thought of word is revealed under impossible circumstances. This simple solution to the book test plot should not be over looked.
Zero memory work!

THIS, THAT AND THE OTHER
Prediction based business card routine.
COIN FORESEEN
An astounding which hand coin routine with a twist.
CALIBRATE
Reveal your participants star sign and a thought of object. No process to follow, simple, direct and astounding.
STRIKE 2
A unique mentalism principle designed to eliminate fishing.
CALIBRATE V2
Reveal your participants zodiac sign. Then a thought of person and object in an unusual manner.
SIMPLE PEEK ENVELOPE
Take the simple peek envelope to the next level
QUICK PEEK TIPS
Some simple tips to improve your peek method.
And many more routines, tips and ideas.