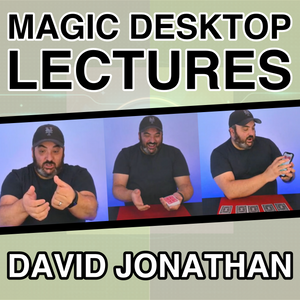 David Jonathan, Magic Desktop Lecture
£2499

£24.99

Total Saved £5
---
---
"This is such a great lecture"  - Joshua S.

"Thank you Joel and David! Great lecture!" - Peter Agoston

"Absolutely Fantastic!!! Thanks Joel & David!" - Bud Thornton
This lecture is absolutely mind-blowing!

"I watched this on a flight home after a very long delay and was giddy with how practical and clean everything that David shared was - I'll be using the Google Maps immediately and finding a way to incorporate the ESP match into a broader ESP card routine (using Eclipse cards)." - Ronald Lau

I am in complete awe and amazement. David not only imparts an abundance of valuable material but also delivers it with impeccable teaching, remarkable performance, and an unmatched level of relaxation that surpasses all expectations.
So sit back, relax, and prepare yourself to be enlightened by this extraordinary experience!