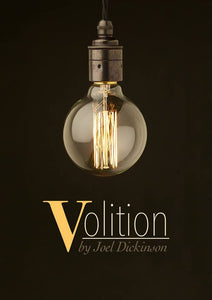 Volition
$1300

$13.00

Total Saved $7
---
---
VOLITION:
A single folded prediction is passed to your participant to hold. The participant is shown three objects, they are then told in advance that they will decide where the objects will be placed. The participant makes their choices where these objects will be placed and they can even change their mind. The magicians prediction matches perfectly.
The participant really does decide which object goes where and the prediction unquestionably matches their three free choices.
In my opinion this is the best take on the free will principle. This adds additional elements, dimensions and subtleties which make it commercial, deceptive and very clean.
This is simple, there are no cheesy props and there is no equivoque.
In Joel's take on the the Three Will Principle your participant is told about the decision they will make before the effect begins and his choices are his own
VOLITION v2:
This is currently my favourite impromptu business card effect to perform and it is not based on the Three Will Principle. This is unique, impossible and leaves your participant and spectators with a memorable effect. Three business cards are passed face down to a participant to mix. After deciding which card will go where, your participant's actions where predicted well ahead of time.
Your participant is given complete control of the cards, they are informed before hand that each card will go to a different location. This is as fair as it gets.
This is self contained, no special gimmicks are required, it's impromptu and this leaves your audience with no logical explanation.
"VOLITION by Joel Dickinson is in part based on Deddy Corbuzier's FREE WILL, which created quite a sensation back in 2004. It inspired quite a few variations, then and now. Even though the basic effect isn't new (and how rare is that nowadays?!), Joel has done some really good thinking here! Very clever! For the money, if the effect suits you, it is well worth it, both a "getter" and a "doer". Properly presented, VOLITION can be a very powerful, direct effect you very well may want to perform often, or, at just the right moment." - Richard Busch
FOR THE VIDEO VERSION OF VOLITION WHICH INCLUDES VIDEO AND EBOOK HEAD OVER TO PENGUIN MAGIC BY CLICKING HERE