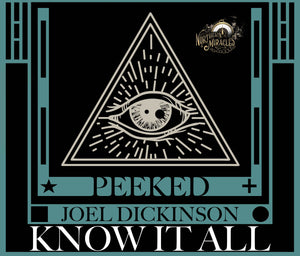 Peeked by Joel Dickinson
$1300

$13.00

Total Saved $7
---
---
PEEKED : Instant Download, available to stream & download.
Never touch the business card however you know what has been written with one hundred percent accuracy.
Peeking your interest? This is peek perfection and once purchased this will become a super power-house peek in your arsenal.
A full business card peek embedded in to a natural routine that is nothing but a joy to perform.

No wallet
No impression device
No reflections
No envelope
Peeked is a method that allows you to harness information that only your spectator knows.

Imagine your spectator picks up several business cards, they write anything on just one card. That card is then mixed in to the other cards and all cards are placed facedown on the table in a row.

Now, you amazingly eliminate all of the cards that are blank and leave just the spectators card facedown on the table. Despite never touching the spectators card, somehow you tell them exactly what has been written on the card.

The video explanation includes a full performance of Peeked by Michael Murray, a variety of variations, tons of nuances, subtleties and more.
You use your own business cards, blank playing cards or any blank cards.