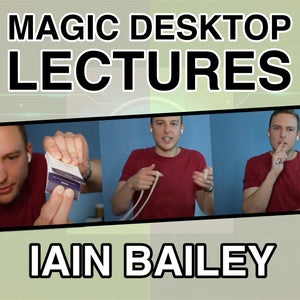 Iain Bailey, Magic Desktop Lecture
$3300

$33.00

Total Saved $6
---
---
Iain generously shares a treasure trove of meticulously crafted and immensely practical magic.
His repertoire includes a complete act ingeniously crafted from everyday household items, along with mesmerizing routines that involve miniature cards, ropes, and an assortment of captivating props.
Iain's introductory routine is a testament to his exceptional magical creativity, setting the stage for a lecture that guarantees a thoroughly delightful and entertaining experience.

For instance, picture someone imagines ordering a drink with a celebrity, and yet somehow you can not only discern their chosen beverage but also reveal a prediction of that celebrity hidden at the bottom of your cup!
The entire lecture showcases an astonishing diversity of magic, spanning various genres and featuring an array of enchanting props.
Take a seat, unwind, and prepare to be thoroughly enchanted!
Magic Desktop Lectures are a treasure trove of hard-hitting material, brimming with invaluable real-world advice. Each lecture has a runtime that typically falls within the range of 1.5 to 2 hours, ensuring a comprehensive and enriching learning experience.