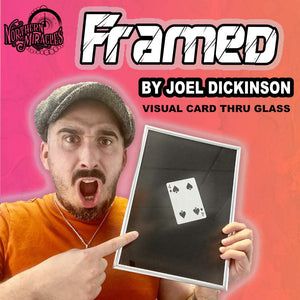 FRAMED by Joel Dickinson
$2000

$20.00

Total Saved $6
---
---
FRAMED - Visual Card Through Glass

AVAILABLE TO BUY NOW - INSTANT DOWNLOAD

*PRICE INCREASING SOON*

"This is brilliant. You are the master of don't run if you aren't being chased."
- Matthew Koob

"Love it!"
- Adam Cole

"I love this and will definitely be making this up."
- David Macpherson

"So I got this and watched the tutorial. I really like it!
Simple method, explained well, and easy to DIY. "
- Videoman (Magic cafe)




WHY WE LOVE IT :
LOOKS LIKE REAL MAGIC
EASY TO DO

DIRECT PLOT FOR YOUR AUDIENCE
CUSTOMISABLE
PORTABLE SHOW STOPPER
DOWNLOAD INSTANTLY
Imagine the power of this awesome routine: Your participant thinks of a card in the deck. They throw the card at the picture frame and their thought of card appears inside the frame.

This is not limited to a4 or playing cards. Can be made using larger frames and smaller.

Best bit: It's an instant download and the moment you click buy it will instantly download.

It's easy to make so you can select a frame suited to your style.

Includes the super switch, allowing you to appear to hand out the very same frame. Framed really is a workers dream!


Once purchased you will need to purchase a suitable frame and a couple of other bits and pieces, in total my entire set up cost me £14.

GET THE INSTANT DOWNLOAD NOW!