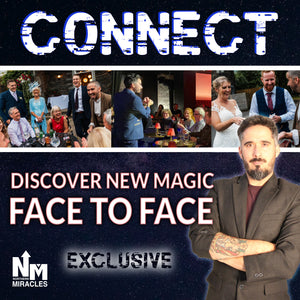 Connect by Joel Dickinson
$11000

$110.00

Total Saved $52
---
---
*NEW - LAUNCH PRICE FOR LIMITED TIME ONLY*



EXCLUSIVE | BESPOKE | PERSONAL | MEMORABLE EXPERIENCE

Ready to step into the world of powerful magic?
Join the magician behind Vanishing Cabaret, The Miracle Studio, and Northern Miracles, Joel Dickinson.
Joel has masterminded effects and routines within the magic industry, collaborating with creators and performers from all corners of the globe.

Now, get ready for a unique 'Connection' with Joel Dickinson.
'Connect' is nothing like magic has ever seen before!
When you connect with me, I will teach you rock-solid effects. These aren't your average magic tricks; these routines are guaranteed to provoke incredible reactions.

Got aspirations? Need advice? Let me help you with that!

We can encompass mentalism, close-up magic, or a fusion of both. The choice is entirely yours!
What to Expect: Once you book your session, I'll get in touch to learn a bit about your background. This preliminary conversation will help me tailor your magic session to suit your needs perfectly.
I will then provide you with a small list of the items necessary for our session. These items are all part of a standard magician's toolkit (cards, coins etc) and will be readily available.

If you want to learn something specific, simply ask, I'm more than happy to accommodate.
What Will I Teach?

Each session is tailored to you and your requirements but here are some of the many routines I may teach..

Mentalism: Propless Mentalism, CAAN, Peeks, Telekinesis, Book Tests, and more.
Close-up Magic: Rope Routine, Linking Rubber Bands, Torn and Restored Card, Color Changes, My unique Chop Cup routine, Coin Magic, One Hand Object Vanish and much more.
However, my guidance doesn't stop at just revealing the effects. I'll also provide insights into the subtleties, nuances, showman, and the details that truly make these effects connect with your audience.
This is powerful magic.
During our session, if you have any questions, need feedback, or require additional assistance, I'm here to help. You'll also have the opportunity to perform your new routines for me.

It's more than just a lecture; it's an interactive experience.
Each session will last approximately one to one and a half hours.
Once you've made your payment, I'll reach out to you to schedule our meeting. If you can't make the suggested date and time, don't worry; we can figure out a suitable time together.

Additionally, you will receive a full recording of our connection for future reference.
Are you ready? Let's Connect!