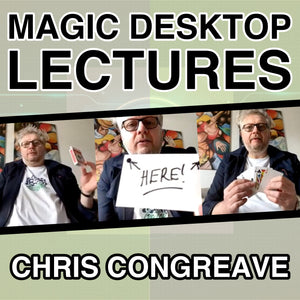 Chris Congreve, Magic Desktop Lecture
£2499

£24.99

Total Saved £5
---
---
"A must have lecture" - Matthew Koob
We were delighted to host Chris Congreave for his Magic Desktop Lecture, and he lived up to his expectation.

The lecture is a treasure trove of hard hitting, real world magic, featuring an array of captivating routines.

Here's a sneak peek at some of the highlights:
PUNCH: Your participant can punch a hole anywhere on your business card, yet miraculously, they'll manage to hit the exact correct spot.

FIND THE LADY: Chris puts his unique spin on the classic 'find the lady' routine. You can see for yourself in the video above, and remember, all the cards are fully examinable!

MARMITE PREDICTION: With this, you can predict any 50/50 outcome, and your predictions will always be spot-on.
And that's just the tip of the iceberg!
The lecture is brimming with a plethora of other mind-blowing effects and insider insights.
Chris divulges his strategies for handling challenging spectators and offers a glimpse into his creative process.
Don't miss out on this magical masterclass!